Carine Roitfeld on New Strategy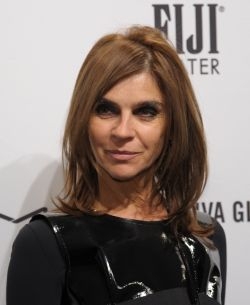 Carine Roitfeld On New Strategy
French editor Carine Roitfeld recently spoke to Business of Fashion explaining her reasons for the strategy changes concerning her biannual magazine, CR Fashion Book. This comes five months after she parted ways with Stephen Gan's Fashion Media Group.
"I will never forget Stephen was the one who helped me launch the magazine. But after ten issues, you can have different ways of thinking," Carine told Business of Fashion. "I wanted to be a bigger magazine. Stephen never liked that. Controlling everything – it's his way of working. But I'm not just fashion, fashion, fashion. I'm more open-minded than maybe people think. I want bigger visibility." This visibility is apparent in the tenth issue of CR Fashion Book, which launches 2nd March. The issue has a dual cover. One features Halima Aden, a Somali-American model, wearing a hijab while the other features Michael Jackson's daughter Paris Jackson.
Roitfeld has expressed a growing partnership with American media giant Hearst, where she previously worked as global fashion director of Harper's Bazaar. CR Fashion Book is published and distributed by CR Fashion Book Ltd in partnership with PubWorX, a joint venture between Hearst and Conde Nast. Hearts will host CRFashionBook.com and oversee digital distribution and advertising for the title.
 "There's a network effect of having Carine part of what we do, and that includes utilising publishing platforms, distributing content, creating branded content, sales and developing a larger audience. I think that's really, really hard to do if you're a small organization. We can operationalize it because we have scale," said Troy Young, president of Hearst Magazines Digital Media.
The approach is similar to that used with Lenny Letter, a newsletter launched by Lena Dunham and Jenni Konner, and focuses on a new type of individual influencer. "There is a set of super-influencers that really add to the equation that we bring to the market," Young said. "The things that drive modern publishing are a point of view and being part of a very specific community."
Carine Roitfeld On New Strategy
---